The most underrated beautiful Greek islands
Summer is right around the corner and it seems the Greek Islands are on everyone's radar! One vacation. 227 inhabited Greek islands. Where do you begin? We've written this guide to Greek Island's with the aim of keeping it simple and showing you the most underrated Greek Islands that you probably won't find elsewhere. Over the past few years we've traveled to a number of the islands.
From the beautiful islands of Skopelos, Meganissi, Corfu, Zakynthos and Paxos, there are so stunning spots I'm pretty sure you'll love. Oh, and that's before considering the biggest Greek island, Crete.
Whatever type of Greek island getaway you're after, you'll almost certainly find a few key spots you'll love.
CORFU
Corfu is located on Greece's western coast, far from the majority of the famous Greek islands to visit. However, just because it's a little farther away doesn't mean it's not worthwhile. Corfu is a beautiful island.
The interior is lush, the shoreline is immaculate, the rock formations are unique, and the capital city is lovely. On Corfu Island, you'll find all of these and more. The rest of the island, with its pastel villages, rolling olive orchards, and great manor houses, is reminiscent of Tuscany, but with some of Europe's best beaches.In comparison to other Greek islands, Corfu is very green: hot, dry summers combined with winter rains result in lush vegetation dominated by over 2 million olive trees.
The main crop on Corfu is olive trees, which were planted by the Venetians, albeit tourism now provides the majority of the income. You may explore shipwrecks, caverns, and reefs from some of Greece's most beautiful beaches with the appropriate instructor. Corfu is one of the most underappreciated Greek islands because of this. Corfu's Old Town was a heavily defended harbor in the 8th century BC. You can visit one of the island's many monasteries or explore the castles.
Where to stay in Corfu?
Many overlook Corfu thinking that it has become spoiled by tourism. Thankfully, this is not the case. There are many quiet areas where you can rent a holiday villa. The island offers a traditional Greek island holiday; little beaches and coves all to yourself, or a visit to the mountain villages; untouched by tourism!
The Olive Press - Agni Bay is a detached Villa property that can sleep up to 12 people, which makes it great for a group vacation or enjoying the holiday with your family.
For smaller parties, we recommend Villa Petros which can accommodate up to 7 people or Villa Persephone where 5 people can stay. Both of them offer beautiful sea views from inside your private swimming pool.
For couples, we recommend renting out smaller beachfront apartment just for 2 people!
Zakynthos
Far from some of the more well-known Greek islands of Mykonos and Santorini, Zakynthos, called "Fiore di Levante" (Flower of the East) by early Italian sailors, offers a completely distinct Greek island experience. And it's not difficult to see why. The island of Zakynthos is blessed with a plethora of natural beauty.
Beautiful alleys, quaint taverns, and charming cafés. Zakynthos Town, the island's capital, has a lot to offer and should not be missed during a visit to Zakynthos. The Venetian Citadel and the Basilica of St. Dionysius, in particular, are must-sees. You will get the best perspective of the city from the Bochali Castle, and you can simply let the Greek-Venetian flair wash over you.
The calm seas off the coast of Zakynthos are ideal for paddleboarding. You can explore caverns, cliffs, and beaches unreachable by road, with no one but your inner voice to tell you when to stop, when you're alone on crystal blue sea.
Hiking and biking in the mountainous interior, with its peaceful stone settlements peeping out of pine forests, is a must.
Where to stay in Zakynthos?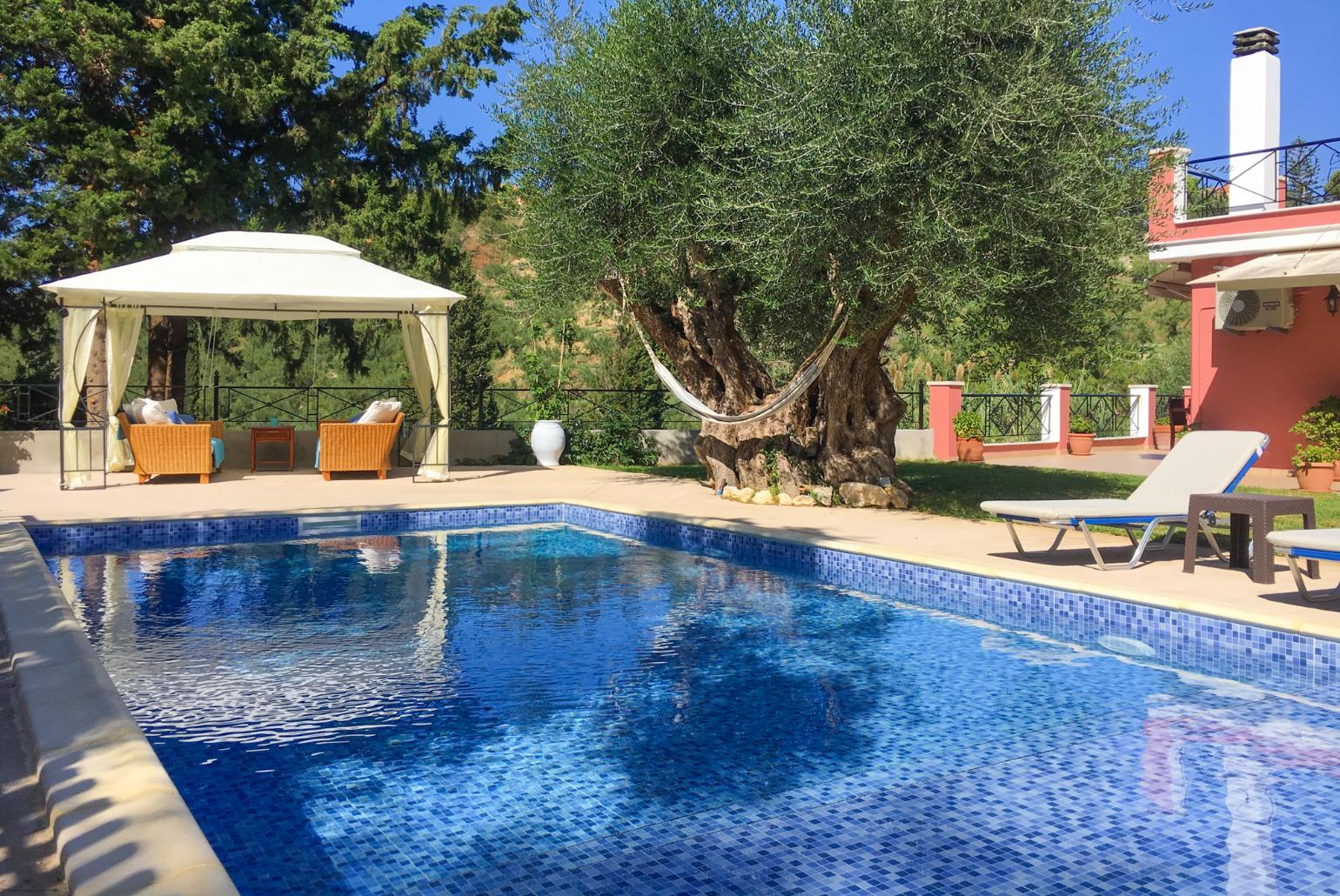 Villa Eliza is our top pick for your perfect Zakynthos holiday, it sleeps up to 6 people and you have your own private pool. Both close proximity to supermarkets and tavernas but also very close to the beach and many more tourist attractions around, such as Zakynthos Castle Museum.
Meganissi
Meganissi is a quiet Greek island full of traditional character and charm, making it the ideal place to actually "get away from it all." Relax on one of the island's numerous gorgeous beaches or hike through the beautiful pine forests to receive a true sense of peace. Spartochori, one of the island's three small hamlets, is located above the major ferry port of Spilia, with modest businesses and traditional tavernas nestled among the narrow lanes. Vathi is a little fishing port on the east coast with lovely, quaint houses, traditional tavernas, and a lovely harbor, while Katmeri located inland between the two ports with various tavernas and shops.
The majority of the coves and bays are untouched, so finding your own patch of sand is half of the fun. The most isolated ones can only be accessed by boat, and discovering them along the shore is a thrill. However, not all of Meganissi's beaches are difficult to access; Pasoumaki Beach is just a few kilometers outside of Vathi, and Agios Ioannis, Fanari, Spilia, and Barbarezou are all within easy driving distance. During the sun-drenched days or balmy summer evenings, this little slice of Greek heaven will set the tone for relaxing and enjoying the laid-back pace of island life.
The different paths and trails on this island are wonderful for discovering magnificent scenery off the main road, and they are a great way to do just that. Spend a day strolling from coast to coast through the soft shade of olive trees and aromatic pines.
You can take a boat ride from Vathi to one of the neighboring islands, such as Lefkas, Ithaca, and Kefalonia, or around Meganissi itself, and experience spectacular views of the beautiful hills, rough coastline, and remarkable sea caves.
Where to stay in Meganissi?
Villa Pegasus and Villa Kyknos can both accommodate up to 6 people, with both having private pool. Both of these rentals are in walking distance from local supermarkets, tavernas, restoraunts and to many beaches, which makes them perfect for your getaway holiday in Meganissi!
Paxos
The well-known hidden gem in the Ionian Sea - Paxos Island a "remote island" will offer you warm hospitality from its locals. Unspoiled by tourism and anchored in its own tale with its peaceful surroundings is the perfect escape to freedom. There is always something more here than just turquoise clear water and untouched nature. No matter in which village you are there is always a local friend to guide you through the deepest island experience. The warming feeling from the locals will bring your holiday to another level where you can explore more about their local culture, habits, homemade tasty dishes, and as well as their relaxed nature. You will already agree with this if you are a returning holiday lover at Paxos or just on the way to becoming one! This small island offers a wonderful opportunity to spend time outdoors, surrounded by olive trees, breathing fresh air. Even during the busiest months of the year, you can enjoy the peace and quiet alone, or join walking groups through the Island's hidden pathways and coastal trails, where you can learn more about the island's greenery while also experiencing the allure of the most magnificent blue sceneries. There are many walks across this small island that will take you through Paxos history, including antique Venetian villas, churches, olive presses, and other historical sites.
Where to stay in Paxos?
There are many options to choice from in Paxos, as every inch of the Island is beautiful and the locals are known for their warm hospitality.
We recommend Villa Martha for larger groups or for holiday with your family, as it can sleep up to 7 people with your own private swimming pool, it also offers sea views and is right next to a beach, while also being in walking distance to supermarkets and tavernas.
Villa Dolphin House also offers your own private swimming pool and can sleep 7 people, with a perfect view of the bay and town.
For couples there are many options, you can stay in Spiros Jetty House, an apartment on the edge of the town jetty, right next to the local taverna. Or you can go to a more secluded Villa Nionios perfect for couples, with your own private swimming pool and private outside area.
Crete
Crete is the largest of the Greek islands, and it is surrounded by a number of smaller islands. While some people seem happy with a day or two in Crete, it truly needs weeks, not days. Spring is especially great for roaming and touring because the sun shines almost all year.
Crete, in fact, caters to all tastes. Despite the fact that its more well-known resorts are well-equipped for tourism and a bustling nightlife, enormous sections of the country remain untouched. Holidaymakers are drawn to the island for a variety of reasons, including cosmopolitan cities, historical monuments, and, of course, lovely Greek beaches. Who can blame them, after all? The attractions of Crete may be second to none, with houses nestled in calm coves, hidden beaches, and mountain communities steeped in traditional Greek life.
Where to stay in Crete?
There are many options to pick and choice from in Crete, for example a large Villa like Souda Bay View who can sleep up to 12 people, positioned right next to the sea offers amazing view, making it perfect for holiday with your large family or your larger group of friends.
Similarly, Villa Lulla can sleep up to 10 people, with your own private heated private swimming pool, making it enjoyable to swim around even off-season.
Or if you are looking for a calmer and more secluded area, maybe Villa Callistemon will be your pick, this villa can sleep up to 10 people and has private swimming pool, with lovely outside area.
To view all of our rental properties in Crete, click here.
Skopelos
Skopelos is the largest of the Northern Sporades group of islands, yet remains charmingly untainted by mass tourism. Skopelos is known as the "Emerald of the Aegean" because of its lush green hillsides carpeted with pine and olive trees that sweep down across the landscape. Its charming white-washed buildings cascade down the hills in layers, creating a distinctly Greek image, while thick pine forests give a lovely backdrop for olive groves and fantastic plum, almond, and citrus orchards. Days can be spent exploring the island's fascinating interior, relaxing on beautiful sand and shingle beaches, and discovering hidden pebble coves. Skiathos, a neighboring island, is the only way to get to this unspoiled island. Holiday makers can pre-book boat or hydrofoil transfers from Skiathos airport to the island of Skopelos.
Where to stay in Skopelos?
Villa Diona offers one of the most mesmerizing views anyone could ever ask for, this Villa can sleep up to 10 people so it makes the perfect candidate for unforgetable holiday for you and your family and friends.
Villa Ourania , located on top of a small hill can sleep up to 8 people and has amazing outside secluded area with its own private pool.
Views: 435